Family still holding out hope for a cure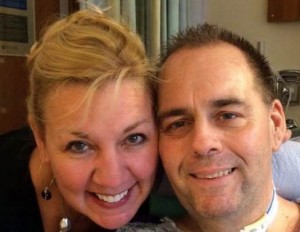 CUMBERLAND – A year ago, the Geraghty family was preparing for the holidays just like they always did, unaware of the deep, life-altering trouble to come.
On Dec. 2, 2013, David Geraghty began feeling discomfort in his diaphragm. By the first week of January, he was intubated in the hospital.
Tara Geraghty said the past year has been one of questions, of desperation, of deep sadness as she's watched her husband's health go downhill, powerless to help him as doctors struggled to diagnose him.
Tara and Dave Geraghty were given more theories than they can even remember on what might be ailing the former principal at Shea and Tolman high schools. They've faced one roadblock after another as they've tried to figure out what's wrong with him.
In September, students and staff at both high schools joined a national phenomenon and ran ALS ice bucket challenges to honor Geraghty and raise money for him and his family.
But Tara Geraghty now says her husband doesn't have ALS, short for amyotrophic lateral sclerosis, and she has questioned that diagnosis for much of 2014. Her work as a clinical social worker has given her enough knowledge to know that ALS patients don't show significant improvement from the disease, and her husband improved for two months this past spring.
The symptoms of ALS very closely mirror those of Lyme disease, said Geraghty, including weakness, paralysis of muscles, and difficulty breathing, but she was shocked at the reluctance of those in the medical profession to even consider the possibility that's what her husband had. She said one doctor even laughed at her.
"There's something about Lyme disease that no one wants to talk about it," she said.
The Geraghtys live on 14 acres of wooded land in Cumberland, said Tara Geraghty, and her daughter and a family dog have both had the illness, further convincing her that her husband had a rare form of the tick-borne disease.
After Dave Geraghty's lung collapsed in August, prompting a rush to the emergency room, Tara made an appointment with a Lyme specialist. The specialist said the symptoms appeared to show Lyme. Other doctors just called the specialist "controversial," she said.
Geraghty said she got so frustrated with doctors that she ended up sending a vial of her husband's blood to California to be analyzed at a specialized lab. By mid-November, she had the analysis back: Dave has chronic Lyme disease.
Doctors have a lot to answer for in how they've treated her entire family over the past year, said Geraghty.
"These people took the Hippocratic Oath to leave no stone unturned," she said. She said she was "outraged" to be "judged unfairly" and made to feel that the Lyme diagnosis was out of the question.